Daytrading - The James way
Our formula of success is a combination of a well proven day trading system and a step by step education and live market support that has helped daytraders around the world to improve their trading results.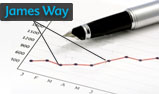 What kind of daytrader are you?
The James Way daytrading system is developed for day traders who are serious about their trading. Consistent profits do not come over night and having professional help through our live trading sessions can be the difference you have been looking for.